Launch of Silverfit @Home - senior workout videos
Due to the suspension of our Silverfit exercise sessions from March 23rd, we launched Silverfit @Home - a series of online workouts, brought to you by our instructors, that can be followed in the comfort of your own home with little or no equipment required!
Videos were initially released at 10am every day to follow along, from 19th June content will be less frequent as some of our outdoor sessions have resumed.
All content remains on our channel for Silverfitters to do in their own time.
Silverfit @Home YouTube channel, can be found here.
A taster of what's on our channel...
We are providing these videos on our YouTube channel free of charge so there are no restrictions on who can enjoy them. However, should you wish to donate towards the production and staff/instructors costs involved, we have created a Just Giving page to give you the opportunity to do so:
How fantastic that we have now reached the milestone of over 100 workout videos on our Silverfit @ Home YouTube channel:
Our workout videos include:
Pilates, Yoga, Tai Chi, Qi Gong, Cheerleading, Zumba, Tango, Bollywood Dance, Nordic Walking at home, Walking Football and Fitness – by a variety of different instructors.
We want to say a big thank you to all of the instructors who have taken the time to record videos for us, keeping our channel consistent and full of variety for our members!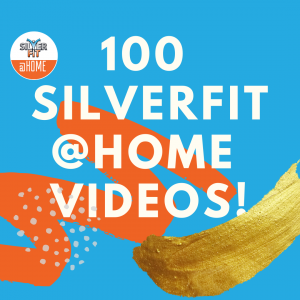 Exercise improves your strength, flexibility and posture, which in turn will help with balance, coordination, and reducing the risk of falls. Strength training also helps alleviate the symptoms of chronic conditions such as arthritis.
Fitness with Petrica
Fitness with Emily
Fitness with Kristin
Fitness with Oggie – our over 50 instructor!
Both the physical and mental aspects of dance make it one of the best overall health practices for seniors to boost independence, mobility, balance, mood, and overall wellness.
Zumba with Zsofia – full body, cardio workout
Bollywood with Tamanna – a fun, full body workout
Tango – for Balance and Posture, with Olga and Vadym
Tango, Balance and Posture – multi session playlist
Cheerleading is a whole body workout. You build strength by rehearsing weekly, particularly in your lower body, shoulders and core. Also helps with coordination and flexibility.
With Zoe
With Bianca
With Jenny
Gentle exercises that help seniors improve balance and prevent falls.
Qi Gong with James
Tai Chi with James
Tai Chi with Michael
Nordic walking will burn more calories, raise your heart rate higher & you'll walk faster than ordinary walking
1. Nordic Walking Indoors with Carolyn
2. Fitness with Johanna for Nordic Walkers
Pilates with Brigit
Yoga with Laura
Yoga with Chris 
New 7 session series based around Chakras
The word chakra literally means a "spinning wheel"—an apt metaphor, as spirit uses the chakras to weave the fabric of life. The chakras govern our behaviour, shape our emotional life, give expression to our deepest desires, and build the structure of our physical body and personality
Walking football offers a multitude of health benefits to older people such as reducing the risk of cardiovascular disease and stroke while improving blood pressure.
Increases energy and improves immune system functioning by reducing cortisol (the main stress hormone) levels in the bloodstream. Reduces and control blood pressure. Decreases muscle tension and aches often associated with feeling stressed and anxious.